APRIL 22nd, 2017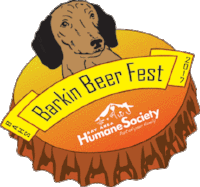 Join the Bay Area Humane Society, in collaboration with Badger State Brewing, for our 1st Annual Barkin Beer Fest presented by Broadway Automotive!
Sample amazing craft beers from local breweries including Badger State Brewing, Stillmank Brewing Company, Titletown Brewing, Hinterland Brewery, Leatherhead Brewing, Ahnapee Brewery, Door County Brewing, and also a couple new faces; Noble Roots and Thumb Knuckle!
Help raise funds for the over 5,000 animals that we see come through our doors every year! Enjoy live music, basket raffles, and 50/50's throughout the event. 100% of the proceeds will benefit BAHS.
Food will also be available for purchase outside from 'The Booyah Shed' and 'Peace, Love and BBQ'.   
When:        Saturday April 22nd, 2017 from 1:00 - 5:00 pm
Location:   The Barrel Haus at Badger State Brewing, 990 Tony Canadeo Run, Green Bay, WI
Cost:          $40/General Admission & $20/Designated Driver 
MUST BE 21 YEARS OF AGE IN ORDER TO ATTEND EVENT. All attendees will receive a commemorative drinking glass. DD's only allowed soda and water. Download information flyer here. Direct any questions to Lori at lori@bayareahumanesociety.com or by calling (920)469-3110 x119. 
Also please NOTE, that although Badger State Brewing is a pet-friendly establishment, we are asking that you keep your furry friends at home for this event. Due to the crowd that will be there and the fact that there will be alcohol involved, this is for the safety of our guests and your pets. We thank you for your understanding.
Thank you to our sponsors
Interested in becoming a sponsor for this event? Download the sponsor flyer here or contact Lori Nachtwey @ lori@bayareahumanesociety.com or (920)469-3110 x119.