Holiday Bingo Extravaganza!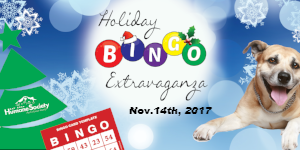 Join us for a fun, casual night out as the Bay Area Humane Society will be hosting our 1st ever Holiday BINGO Extravaganza!
We see many animals come through the shelter every year that are abused, sick, injured or abandoned...over 5,000 actually. This is a fundraiser to help us continue our cause and that is to help any animal that comes through our doors, to not only get better, but to find the new loving homes that they deserve!
DETAILS:
Tickets: $40 ahead of time ($50 at the door).
Includes:
A full chicken buffet dinner (cash bar available)
Bingo booklet comprised of 10 games with three sheets each
Bingo dauber
TIME:
5:00 pm - 6:00 pm: Dinner and refreshments
6:00 pm - 9:00 pm: BINGO
Also throughout the night, we will have raffles going on; 50/50, baskets AND we also be raffling off 'Bowser's Basket of Beer, Booze and Wine'! (Probably enough to last you ALL of 2018!)
So grab your friends, come on out, have fun and show your support for all of our furry four-legged friends!